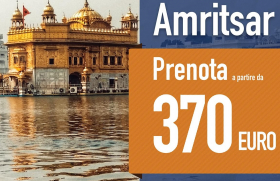 Charter flights to Amritsar
28/08/2020
GS AIR is promoting a special initiative to bring you back home safely in these tough times. We care about you and your family.
Upcoming Flight: 9th September - Milan to Amritsar
Flight Number: to be advised shortly
Departure Time: to be advised shortly
Arrival Time: to be advised shortly
Meals on board: included
Baggage Allowance: 30KG
Important points:
1. This is a charter flight, prooted in Italy by GS AIR, operations of flight are subject to load factor , DGCA & MEA Permissions.
2. For Online Payments, convenience fee is charged extra.
3. Cancellation Policy: Tickets will be non-refundable once payment is made.
Steps to follow to book your ticket:
1. Register your name for the flight by filling the form linked to this page (see botton below).
2. Once authorisation is received from Indian consular authorities, a message with payment details will be sent on your email. (be careful while filling your email in the registration form)
3. Payment message will expire in 12 hours once generated.
4. Once payment is received, tickets will be issued and sent.
5. If you don't receive the tickets and you have made payment, Please proceed to the airport and show your payment receipt on the check-in counter. You will be allowed to board the flight.
6. For any queries – drop email to onlinesales@gsair.it
DON'T REPEAT EMAILS. WE WILL SURELY GET BACK TO YOU IN 24 HOURS.