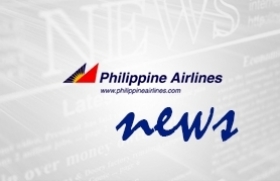 05/09/2019
Philippine Airlines has introduced a new Airbus A321neo SR aircraft to serve as the primary single-aisle jetliner for Asian regional flights, in the latest phase of the flag carrier's fleet modernization program.
The brand new PAL A321neo SR, with registry number RP-C9937, joined the fleet last July after completing flight tests at the Airbus A320/A321 assembly plant in Hamburg's Finkenwerder Airport (Germany). The aircraft is the first of a batch of 15 that will be progressively introduced into the PAL fleet over the next few years.
PAL's A321neo SR is powered by two Pratt & Whitney PurePower PW1100G-JM geared turbofan engines and features the versatile Airbus "cabin flex" configuration designed for short-range regional flights between the Philippines and East Asian destinations, including airports in grater China, Central Japan, Korea, Guam and the rest of the ASEAN.
Passengers will enjoy notable enhancements in seat comfort and entertainment options onboard the A321neo SR, which is more advanced update of the A321 Classic that PAL currently operates on domestic and certain regional routes. Outfitted with just 195 seats in a two-class layout, namely 12 seats in Business Class and 183 seats in Economy, the A321neo SR offers a roomier cabin than the existing 199-seater A321 Classics, with more generous legroom and personal space than the 236-seat configuration offered by some competitor airlines on their similar-sized A321neos.
In PAL's customized A321neo cabin, every seat in both Business and Economy sections has imbedded personal video screens offering movies, TV shows and music. The myPALeSuite system allows passengers to stay connected infligt through their own personal mobile devices with myPAL Wi-Fi for free, or they may opt to surf longer with upgrade plans.
"Our passengers will appreciate the more comfortable layout of the aircraft", said PAL President Gilbert F. Santa Maria. "The A321neos's new engines, 'sharklet' wingtips and other innovations also make the airplan quieter, more efficient and kinder to the environment, which is good news for the planet." Added Santa Maria: "Our newest A321neo will become the single-aisle mainstay for regional routes, helping PAL in our mission to boost tourism from the high-producing tourist countries in the region such as China, Japan, Korea and our ASEAN neighbors."
Prior to this new batch of A321neo SRs, the flag carrier completed the delivery of six (6) longer-range versions of the A321neo with the arrival of the sixth aircraft on New Year's Day 2019. The longer-range A321neo has been deployed on nonstop routes to Brisbane, Papua New Guinea, Sydney and Sapporo.
The visible modifications on the A321neo include an additional lavatory, a new rear section and new overwing emergency exits in the center section to replace the traditional secondary door located forward of the wing in classic A321s. "Our award-winning inflight service, entensive entertainment selections, comfortable seats and brand new planes are earning the appreciation of more and more passengers," said PAL President Santa Maria. "We will extens the same service experience to passengers flying our A321neo SR."
PAL's current fleet of 98 aircraft includes six (6) Airbus A350-900 and ten (10) Boeing 777-300ER widebody jetliners for long-haul routes, 15 Airbus A330s for high-density Asia/Pacific, Australian and Middle Eastern routes, six (6) A321neo longer-range versions, 24 A321 Classics, 19 A320s and 10 De Havilland Dash 8-400s, in addition to classic versions of the Q300/400.